District Court Judges
District courts hear cases involving civil, criminal, juvenile, and magistrate matters. District courts are divided into 41 districts across the state and sit in the county seat of each county. They may also preside in certain other cities and towns specifically authorized by the General Assembly. Unlike the superior court, the district court districts are not grouped into larger judicial divisions. Each administrative district court district has a chief district court judge who manages the administrative duties of the court.
There are a total of four seats for our District Courts on November 3 we can vote for 3 candidates. Our candidates are not running "against" each other. They are each running for a different seats on the Court.
Civil cases are heard by a jury if a party requests one, but certain cases are always decided by a judge without a jury, such as child custody disputes. The following types of civil cases are heard in district court:
Divorce
Child custody
Child support
Cases involving less than $25,000
Criminal The district court hears criminal cases involving misdemeanors and infractions (non-jury).
Juvenile The district court also hears juvenile cases (under age 16) that involve delinquency issues, and it has the authority to hear juvenile undisciplined cases (under age 18). It also considers abuse, neglect, and dependency cases involving children younger than 18.
Magistrates In civil cases, the magistrate is authorized to try:
Small claims cases ($10,000 or less)
Landlord eviction cases
Suits for recovery of personal property and motor vehicle mechanics' liens
In criminal cases, the magistrate is authorized to:
Issue warrants for arrest
Set bail
Accept guilty pleas for minor misdemeanors and infractions
Accept waivers of trial for certain worthless check cases
Our Democratic Candidates for District Court:
NC District Court – Larry Brown (seat 2)
Larry Brown serves as a District Court judge inAlamance County. Brown was born in Henderson but grew up in Baltimore and graduated from nearby Towson State University with a degree in
political science in 1999. He returned to North Carolina to attend law school, graduating from North Carolina Central University School of Law in 2008. Prior to his appointment to the bench, Brown served as an assistant district attorney in Alamance County (District 15A) from 2008-13 and as a solo practitioner from 2013-17.
Brown has served his community in numerous ways, including service to Mt. Moriah Missionary Baptist Church in Mebane, the Men's Empowering Resource Center, Piedmont Men of Steel and Sustainable Alamance. He has also provided volunteer service to Alamance Citizens for a Drug Free Community, CareNet of Alamance County and the Alamance County Teen Court Program.
NC District Court – Doug Green (seat 3)
The second son of Lee and Carolyn Williams Green, pushing the proverbial envelope – and exceeding expectations of excellence- have always been a part of Doug's DNA his entire life. He grew up in Alamance County and attended Walter Williams High School where he was a stand-out honors student who also lettered in 4 sports. He was recruited to the renowned Duke University to play football and became a stand out ACC Wide Receiver.
Doug was a celebrated D1 athlete- and scholar- earning an Economics degree from Duke University, then an MBA from Elon University and a J.D. degree from Central University School of Law.
Doug is Currently serving as the Assistant District Attorney in Alamance County for over 2 years, Doug's extraordinary legal career includes memberships in the NC, Florida, and Alamance County Bar Associations. While in Florida, he was a member of the U.S. Court of Appeals for the 11th Circuit, U.S. District Court, and Middle District of Florida (Orlando Division).
NC District Court – Katie Overby (seat 4)
Overby received her undergraduate degree from the University of North Carolina at Chapel Hill and her J.D. from the Campbell University School of Law.
Overby worked as an assistant district attorney from August of 1999 until her judicial appointment in January of 2011
Judge Overby is the first woman to serve on the District Court in Almance County
North Carolina Court of Appeals
The North Carolina Court of Appeals is the state's intermediate appellate court. Currently 15 judges hear cases in panels of three. The Court of Appeals reviews the proceedings that occurred in the trial courts for errors of law or legal procedure; it decides only questions of law – not questions of fact. The role of the Court of Appeals is to decide if the trial court correctly applied the law, or if there was prejudicial error in the conduct of the trial.
The majority of cases appealed from the Superior and District courts in civil and criminal cases are heard by the Court of Appeals. One major exception is capital murder appeals in which the death penalty was imposed; these appeals go directly to the Supreme Court of North Carolina. In addition, direct appeals from certain of the state's administrative agencies are heard by the Court of Appeals.
If a member of the three-judge panel dissents from the decision of the majority, there is a right of appeal from the Court of Appeals to the Supreme Court of North Carolina; otherwise, further review of a decision of the Court of Appeals is limited to those cases that the Supreme Court accepts in its discretion. Judges of the Court of Appeals are elected and serve eight-year terms.
More information about the Court of Appeals
Our Candidates for Court of Appeals
We have 5 seats on the NC Court of Appeals on the ballot in November and we have these five great candidates to fill those seats.
NC Court of Appeals Tricia Shields (seat 4)
NC Court of Appeals – Lora C Cubbage (seat 5)
NC Court of Appeals – Gray Styers (seat 6)
NC Court of Appeals – Ruben F Young (seat 7)
NC Court of Appeals – Chris Brook ( seat 13)
The Judiciary Explained
North Carolina State Supreme Court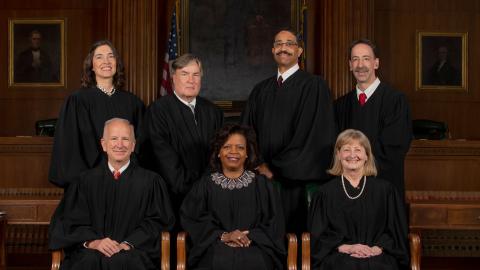 The Supreme Court of North Carolina is the state's highest court, and there is no further appeal from its decisions on matters of state law. It is made up of the Chief Justice, who also serves as head of the Judicial Branch, and six associate justices. Each justice serves an eight-year term. The Supreme Court has no jury and makes no determinations of fact, but it considers whether error occurred at trial or in judicial interpretation of the law.
Our Candidates for the NC Supreme Court
This year we will be voting for three justices for the Supreme Court: Chief Justice Cheri Beasley, Mark Davis and Lucy Inman. Read more about each of them below.
Chief Justice of the NC Supreme Court Cheri Beasley
The chief justice of the supreme court is elected by voters to serve in that role for a full eight-year term. North Carolina is one of only seven states in which the chief justice is elected by voters.
Cheri Beasley is the 29th Chief Justice of the North Carolina Supreme Court – and the first African-American woman to serve as Chief Justice of the state's highest Court. As Chief Justice, she's responsible for making sure every North Carolina court has the tools they need to run smoothly. Judge Beasley's commitment to equitable access to our court system is so important.
Chief Justice Cheri Beasley has spent more than 20 years dedicated to the rule of law. She began her judicial career as a district court judge in Cumberland County, where she served for a decade before being elected to the North Carolina Court of Appeals in 2008. She served as an associate justice on the Supreme Court of North Carolina for seven years before being appointed by Governor Roy Cooper last year to lead the Supreme Court and North Carolina's third branch of government, the Judicial Branch. She is the first African-American woman in the Supreme Court's 200-year history to serve as Chief Justice.
Chief Justice Beasley has spent her entire career advocating for courts that are independent, fair, and accessible, and that serve every person with dignity and respect. As Chief Justice, she is advocating for a court system that not only solves legal disputes, but also helps people better their lives. By engaging local judges, educators and law enforcement, she is helping to reform discipline in our schools and keeping kids out of our courtrooms. She is committed to expanding specialized treatment courts that better serve the needs of North Carolina's children and families. She is also working to leverage the power of technology to make sure our courts are efficient and accessible.
She has lectured extensively to promote the administration of justice, the importance of an independent judiciary, and fair judicial selection. She is active in her community through leadership in her church, First Baptist of Raleigh, her support of hunger relief efforts, and her mentoring of students from elementary school to law school. She is a graduate of Douglass College of Rutgers University, the University of Tennessee College of Law, and Duke University School of Law where she obtained her LL.M. She and her husband, Curtis Owens, are the proud parents of twin sons, Thomas and Matthew.
Judge Mark Davis
"I know Judge Davis is dedicated to his work and to serving the people of North Carolina, and I know he will continue to serve with distinction as an Associate Justice on the Supreme Court," said Gov. Cooper.
Davis was appointed to fill Chief Justice Cheri Beasley's seat on the NC supreme Court when Gov Cooper named Beasley to the chief justice role after former chief justice, Mark Martin, retired .
This is the second time Davis, a registered Democrat, has succeeded Beasley. He was appointed to her Court of Appeals seat by former Gov. Bev Perdue in 2012, and won election to a full eight-year term in 2014. Davis was previously Perdue's general counsel and, before that, served as a special deputy attorney general at the North Carolina Department of Justice.
Born in Jacksonville, Onslow County, North Carolina in 1966 to Leah and Bernard Davis. Married to Marcia S. Davis, Ph.D since 1992. They have three children.
Educational BackgroundE.E. Smith High School, 1984
University of North Carolina at Chapel Hill, B.A., 1988
University of North Carolina School of Law, J.D., 1991
Duke University School of Law, Master of Laws, Judicial Studies, 2018
Professional BackgroundOn March 11, 2019, Governor Roy Cooper named Judge Davis as associate justice of the Supreme Court of North Carolina. He was installed at the Supreme Court on April 3.
Judge Davis was appointed to the North Carolina Court of Appeals in 2012 and was elected to a full eight-year term in 2014. He served as a Special Deputy Attorney General in the North Carolina Department of Justice for five years. He spent thirteen years as an attorney with Womble Carlyle Sandridge & Rice, where he was a member of the firm in the Litigation Section. He also served as General Counsel in the Office of the Governor for approximately two years. Judge Davis received his law degree from the University of North Carolina School of Law and his undergraduate degree from the University of North Carolina at Chapel Hill. Upon his graduation from law school, he served as a law clerk to the Honorable Franklin T. Dupree, Jr. in the United States District Court for the Eastern District of North Carolina. In 2018, he received a Master of Laws (LL.M.) degree in Judicial Studies from the Duke University School of Law.
Professional Organizations and Community Activities Rotary Club of Raleigh
North Carolina Bar Association
Professionalism Committee
Appellate Rules Committee
Bench-Bar Committee
Constitutional and Civil Rights Section
Litigation Section
Wake County Bar Association – Bench-Bar Committee
North Carolina Association of Women Attorneys
Eastern District of North Carolina – Local Rules Committee
Wake County Jewish Federation – Board of Directors
North Carolina Supreme Court Historical Society
Wake County Volunteer Lawyers Program
Susie Sharp Inn of Court
American Bar Association
Youth Basketball and Soccer Coach
Judge Lucy Inman
Judge Lucy Inman has served in courtrooms across North Carolina for nearly a decade, first in the Superior Court and now on the Court of Appeals. Her record shows that she always follows the law and treats every person in court equally, fairly, and with respect. Judge Lucy Inman's experience makes her uniquely qualified to advance the cause of justice on the North Carolina Supreme Court.
Lucy Inman, a judge on the North Carolina Court of Appeals, is a candidate for the North Carolina Supreme Court in 2020. Judge Inman was elected statewide to the Court of Appeals in 2014.
Judge Inman was raised in Raleigh by parents who taught her the value of hard work and respect for people of all races, faiths, and walks of life. She graduated from Sanderson High School and earned a degree in English from N.C. State University.
Judge Inman's first career was as a newspaper reporter. While covering court proceedings, she was inspired to participate in the justice system. She then moved to Chapel Hill and earned her law degree from UNC School of Law in 1990. Her first job after law school was working as a law clerk for North Carolina Supreme Court Chief Justice Jim Exum.
Judge Inman went on to practice civil litigation for 18 years, first in Los Angeles and then back home in Raleigh. Her clients included small business owners, large corporations, famous individuals, and lesser known — but no less important — survivors of negligence, fraud, and sexual abuse.
In 2010, Judge Inman was appointed by Governor Beverly Perdue to serve as a special superior court judge. She served in that role for four years, presiding in hearings and jury trials across North Carolina. Since her election to the Court of Appeals, Judge Inman has authored nearly 400 appellate decisions in a wide variety of cases, including criminal, civil, and constitutional disputes. She has presided in thousands of other cases.
Judge Inman brings hard work and respect for all others to her personal and professional life every day. She hopes to bring these values, and equal justice for all, to the North Carolina Supreme Court.
Judge Inman and her husband Billy Warden live in Raleigh. They have two college-age children and a black lab rescue who keeps their nest from ever being empty.
Other members of the NC Supreme Court are: